The South Dakota sanctioned tournament page can now be found at THE TOURNAMENT CENTER.
Please go to the tournament center page if you are looking for a tournament, are a tournament director who needs to get your event sanctioned, or if you are looking for out-of-state travel or guest player approval.
All South Dakota tournaments, programs and events that are sanctioned by the state association can be found below. If you do not see a tournament, program or event listed below then they are not sanctioned by the state. What does this mean?
Any SDYSA registered players participating in a league, tournament, program or event not sanctioned by SDYSA/USYS are not covered by our insurance policy.
There is no liability insurance coverage for an SDYSA member club if any non SDYSA/USYS club or league uses their facility grounds for any unsanctioned SDYSA events (I.e., Leagues, Tournaments, Camps)
If you have questions as to whether or not the event your son or daughter is participating in sanctioned, please don't hesitate to reach out to the state office (651) 503-8927.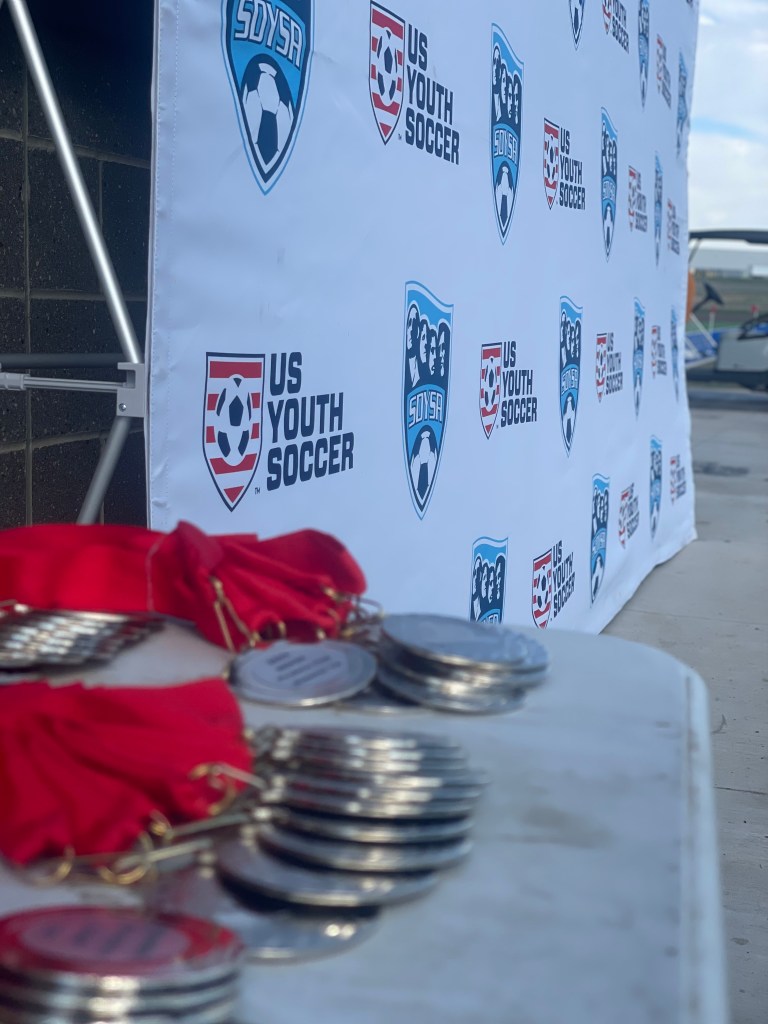 Sanctioned Tournaments
| Date | Tournament Name | Host | Location |
| --- | --- | --- | --- |
| 5/31/2024 – 6/2/2024 | 2024 Fishback Classic Tournament | SoDak Spurs | Brookings, SD |
| 5/17/2024 – 5/19/2024 | 2024 Watertown Spring Shootout | Watertown Youth Soccer Association | Watertown, SD |
| 5/10/2024 – 5/12/2024 | 2024 DASC O'hayon Invitational | Dakota Alliance Soccer Club | Sioux Falls, SD |
| 5/3/2024 – 5/5/2024 | SDYSA State Championship Series: State Cups & Prairie Cup | SDYSA | Sioux Falls, SD |
| 2/17/2024 – 2/18/2024 | Kids & Coins U10 Festival | SoDak Spurs | Brookings, SD |
| 2/2/2024 – 2/4/2024 | 2024 DASC Girls Winter Games | Dakota Alliance Soccer Club | Sioux Falls, SD |
| 1/26/2024 – 1/28/2024 | 2024 DASC Junior Winter Games Indoor Tournament | Dakota Alliance Soccer Club | Sioux Falls, SD |
| 1/19/2024 – 1/21/2024 | Cubby's Futsal Tournament- Boys Weekend | SoDak Spurs | Brookings, SD |
| 1/5/2024 – 1/7/2024 | Dam Fireworks River City Rumble | Yankton Youth Soccer | Yankton, SD |
| 1/5/2024 – 1/7/2024 | 2024 Geffdog Winter Invitational | Hub City Soccer Club | Aberdeen, SD |
| 12/15/2023 – 12/17/2023 | Augustana University-Viking Futsal Challenge | Dakota Alliance Soccer Club | Sioux Falls,SD |
| 12/15/2023 – 12/17/2023 | 2023 Sturgis Christmas Classic | Sturgis Soccer Association | Sturgis, SD |
| 12/8/2023 – 12/10/2023 | Cubby's Futsal Tournament-Girls Weekend | SoDak Spurs | Brookings, SD |
| 12/1/2023 – 12/3/2023 | 2023 DASC Boys Winter Games Indoor Tournament | Dakota Alliance Soccer Club | Sioux Falls, SD |
| 10/20/23 – 10/22/2023 | 2023 BHR Fright Fest | Black Hills Rapids | Rapid City, SD |
| 9/22/2023 – 9/24/2023 | 2023 Fishback Classic Tournament | Sodak Spurs | Brookings, SD |
| 7/14/2023 – 7/16/2023 | Black Hills Blacktop Tournament | Sturgis Soccer Association | Sturgis, SD |
| 9/22/2023 – 9/24/2023 | Black Hills Cup | Sturgis Soccer Association | Sturgis, SD |
| 12/6/2023 – 12/8/2023 | 2023 DASC BOYS WINTER GAMES INDOOR TOURNAMENT | DASC | Sioux Falls, SD |